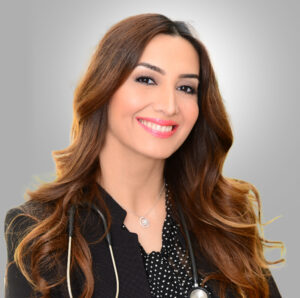 Nasreen AL-Sayed
BMedSc, MD, FACP, FACE
Dr. Al-Sayed graduated from Arabian Gulf University, college of Medicine in Bahrain. She is American Board Certified. She completed her Residency training in Internal medicine at Sinai-Grace Hospital, Wayne State University, Detroit, Michigan, USA and Fellowship training in Endocrinology and Diabetes at Cleveland Clinic Foundation, Ohio, USA. Dr. Al-Sayed is also American Board Certified in Clinical Lipidology and a fellow of American College of Physicians and fellow of American College of Endocrinologists. She has worked as assistant professor at Arabian Gulf University and is currently at Gulf Medical & Diabetes Specialist Center in Bahrain. Dr. Al-Sayed is a member of the National Lipid Association and other Diabetes and Endocrine Associations and has several research publications. She is currently the President of the Gulf Association of Endocrinology and Diabetes, and a member of expert panel for Middle East Familial Hypercholesterolemia guidelines and FH Gulf registry. She is the National Lead investigator for FH in Bahrain.
Dr. Alsayed participated with expert panel and published first consensus recommendation for management of plasma lipid disorders for Middle East 2016. She has other several publications in the endocrine field.
My topic: A novel case of homozygous LDLRAP1 gene mutation causing autosomal recessive familial hypercholesterolemia in Kuwait.
COI declaration:
Lecturer: Abbott, AstraZeneca, Merck Sharp, Sanofi, Pfizer, Amgen.
Advisory Board: Sanofi, Aegerion, Merck Sharp.