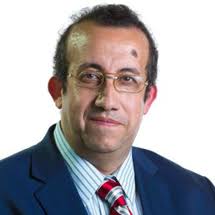 Hani Sabbour
MD, FACC, FHRS, FASE
Dr. Hani Sabbour, MD, is a Staff Physician in the Heart and Vascular Institute at Cleveland Clinic Abu Dhabi.
Prior to joining Cleveland Clinic Abu Dhabi, Dr. Sabbour graduated with a bachelor's degree in Basic Medical Sciences and another in Medicine and Surgery from Kuwait University Faculty of Medicine in 1994 with first class honors. He was also twice-awarded His Highness the Emir's Gold Medal for academic excellence in both degrees.
He subsequently went on to train in Internal Medicine and Cardiovascular Disease at SUNY Stony Brook in New York and was elected both Resident and Fellow of the Year several times. He then completed his training in Clinical Cardiac Electrophysiology at Massachusetts General Hospital, Harvard Medical School and was appointed Clinical Instructor in Cardiology at Harvard Medical School in 2001, as well as at SUNY Stony Brook.
Dr. Sabbour has six American Board Certifications and is currently certified by the American Board of Internal Medicine in Cardiac Electrophysiology, Advanced Heart failure and Transplant Cardiology, Cardiovascular Disease, Internal Medicine, Echocardiography and Nuclear Cardiology. He has always been heavily involved in teaching and has been a part of the teaching faculty at Brown University since 2006. He was promoted to Clinical Assistant Professor of Medicine and Cardiology at Brown University Warren Alpert School of Medicine in 2013 .
Dr. Sabbour has been active in research and is currently an active PI in two international multi-center trials in the field of pacing and ICDs and has had several publications in the field. He was also appointed as the Internal Medicine Residency Program Director at Al Ain Hospital, as well as Arab Board Cardiology Fellowship Site Co-Director. He had been practicing in Rhode Island for eleven years and then moved to the UAE in 2013 to be a Consultant Cardiologist at SEHA (SKMC, Mafraq, Al Ain Hospital and Tawam) Hospitals. Following that, Dr. Sabbour has been a caregiver at Cleveland Clinic Abu Dhabi since 2016.
His main clinical interests and expertise are in the management of Arrhythmias and Ablation of Atrial Fibrillation, Advanced CHF and Pulmonary Hypertension and Adult Congenital Heart Disease, as well as familial hyperlipidemia and complex lipid disorders. He is a co-principal investigator in the Gulf Familial Hyperlipidemia Registry and co-author on the Middle East Dyslipidemia Guidelines, as well as the Gulf ICD Registry and Practical Guidance on Anticoagulation for Atrial Fibrillation in the Middle East.
Dr. Sabbour makes the following disclosures:  Grants as Speakers Bureau and Advisor from:  Novo Nordisk, AstraZeneca, Amgen, Sanofi, Pfizer, Boehringer Ingelheim, Amarin, Merck