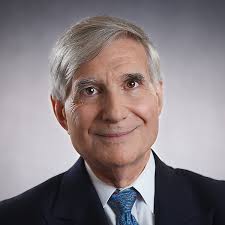 Professor Peter Libby is a cardiovascular medicine specialist at the Brigham and Women's Hospital and the Mallinckrodt Professor of Medicine at Harvard Medical School. He received his medical degree from the University of California, San Diego. He completed a residency in internal medicine, a clinical fellowship in cardiovascular disease at the Peter Bent Brigham Hospital and a research fellowship in cellular physiology at the Harvard Medical School. Dr. Libby's clinical and research interests include vascular biology, atherosclerosis and preventive cardiology. His research has a major focus on the role of inflammation in vascular diseases. Dr. Libby directs studies of the messengers created by the body that may produce arterial plaque and blockages, as well as normal and abnormal function of smooth muscle and endothelial cells. Dr. Libby has received research recognitions on four continents, including the highest research awards from the American Heart Association and American College of Cardiology, the Gold Medal of the European Society of Cardiology, the Anitschkow award from the European Atherosclerosis Society, the Ernst Jung Gold Medal for medicine and the Earl Benditt award for vascular biology. He holds elected honorary memberships in the British Atherosclerosis Society, the Japan Circulation Society, and the Japanese College of Cardiology. He is the author of more than 470 original peer-reviewed publications and over 550 reviews, commentaries, or book chapters. His Google Scholar H-index is 238 with more than 250,000 citations. Dr. Libby also served as the Editor-in-Chief of the 2021 edition of the world's leading textbook of cardiovascular medicine.
Dr. Libby makes the following disclosures: Grant/Research support: Novartis;  Unpaid Consultant and/or unpaid steering or executive committee of: Clinical trials: Amgen, Esperion, Genentech, Kowa, Merck, Novartis, Pfizer, Sanofi-Aventis-Regeneron.  Scientific Advisory Board: Amgen, Beren, Caristo, Cartesian, CSL, Behring, DalCor, Dewpoint, Kancera, Medimmune, Novartis, NovoNordisk, Olatec, PlaqueTec, Xbiotech.  Board: Xbiotech.
Dr. Libby declines all personal compensation from pharma or device companies.  Dr. Libby has a financial interest in Xbiotecj, a company developing therapeutic human antibodies.  Dr. Libby's interests were reviewed and are managed by Brigham and Women's Hospital and Partners HealthCare in accordance with their conflict-of-interest policies.